We love photography. And we think you'll love your images from His & Hers Photography.
We are husband and wife team, Randy and Darcy Milder, and together we are the duo behind the cameras. We hope our portfolio will speak for itself. We wanted natural landscapes, unique locations, bright, warm light and Iowa's changing seasons to set the tone for portraits. We've created a style that we love – newborns on gorgeous, soft fabrics and portraits outdoors surrounded by our area's natural beauty. We bring this unique style to every shoot, and we'd love to help capture you and your loved ones.
In early 2009, His & Hers was born. We are a fresh, young business – this is our 5th year and we've loved getting to know our clients and watching babies grow! Each family, each new baby, every child – it has been a privilege for us to be part of capturing your family's memories.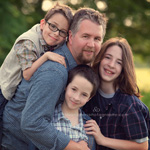 Randy is a native Iowa City boy, turned residential designer. He is a die-hard Chicago Bears fan and usually handles the "big kids" we shoot. He has a hip, urban style that makes him very popular with our seniors (in high school – although the "citizens" adore him, too!). Randy does amazing, modern lifestyle shots for senior photos and families, capturing moments and making them memorable art that clients love showing off on Facebook or in an album, and that make stunning wall images. When he's not shooting seniors or families – he helps with posing and safety in our newborn sessions, keeping a steady hand on baby. In his free time, he shoots urbanscape architecture, wrestles the boys, or attempts to conquer the never-ending honey-do list.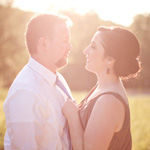 Darcy is a Naperville, IL-born, Iowa transplant who specializes in newborn and child portraiture. Darcy shoots our "littles" – focusing on those first newborn features, gummy smiles, chubby feet, capturing fleeting milestones of kids who grow up too fast, and family shoots with kids from 0 – 100! Her fresh, fun, open style focuses on bright eyes, natural-light and catching candid moments before they're outgrown. Parents love having beautiful portraits to hang and brag books to show off – especially when the little ones aren't so little anymore. When she isn't shooting babies and families, Darcy is usually stalking her own kids like paparazzi, pretending to be a runner, or curled up with a book.
His and Hers Photography is a fully-insured LLC.
Your information will not be shared, sold, traded or disclosed with any party.
Site stat counter will collect anonymous information such as which browser you use and number of visits this site receives each day. Your privacy is important to us!